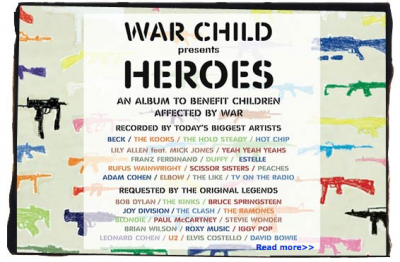 War Child International is a network of independent organisations, working across the world to help children affected by war.
La Fundación War Child es una organización independiente, que tal como dice su misión, trabaja alrededor del mundo por los niños afectados por la guerra. Reconforta saber que en otras latitudes la música y todas las artes, contribuyan a aliviar el dolor de atrocidades que están latentes...desde acá para crear conciencia y poder disfrutar interpretaciones fabulosas, como el clásico "Call Me" de Blondie, interpretado por Franz Ferdinand o "Victoria" de The kinks en la versión de The Kooks, les pasamos el link del disco...
Sería más saludable que las disqueras nacionales, oportunamente, lanzaran los discos y poder adquirirlos cuando se trata de estar ahí con un grano de arena.
Salud Respetables Conciudadanos
If you can play on the fiddle
Hows about a british jig and reel?
Speaking kings english in quotation
As railhead towns feel the steel mills rust water froze
In the generation
Clear as winter ice
This is your paradise

There aint no need for ya
Go straight to hell boys

Ywanna join in a chorus
Of the amerasian blues?
When its christmas out in ho chi minh city
Kiddie say papa papa papa papa-san take me home
See me got photo photo
Photograph of you
Mamma mamma mamma-san
Of you and mamma mamma mamma-san
Lemme tell ya bout your blood bamboo kid.
It aint coca-cola its rice.

Straight to hell
Oh papa-san
Please take me home
Oh papa-san
Everybody they wanna go home
So mamma-san says

You wanna play mind-crazed banjo
On the druggy-drag ragtime u.s.a.?
In parkland international
Hah! junkiedom u.s.a.
Where procaine proves the purest rock man groove
And rat poison
The volatile molatov says-

Pssst...
Hey chico we got a message for ya...
Vamos vamos muchacho
From alphabet city all the way a to z, dead, head

Go straight to hell

Can you really cough it up loud and strong
The immigrants
They wanna sing all night long
It could be anywhere
Most likely could be any frontier
Any hemisphere
No mans land and there aint no asylum here
King solomon he never lived round here
Lyrics by The Clash Interpreted By Lilly Allen&Mike Jones